Meet Lady Greyhound
This amazing piece of engineering history is a Greyhound Super Scenicruiser. Manufactured in 1954, it served as a mainstay in Greyhound's fleet until the 1970's, when it was sold to a series of private individuals.
It has now been purchased once again, to be fixed up and put into service as the transportation for the Greyhounds of Fairhaven as we promote adoption of retired racing greyhounds. It somehow seems fitting that a group that promotes adoption of retired racing greyhounds through historical reenactment should have transportation that is itself an historical Greyhound. It also seems fitting that the bus that will help promote greyhound racing dogs, should take the name of a greyhound who once promoted Greyhound Lines, Lady Greyhound.
Our intention is to maintain as much of the original external body as possible, even to the point of restoring parts that have been modified. And while we will not repaint her in the official Greyhound Lines colors, we have chosen a design that is very strongly influenced by the early Scenicruiser paint schemes, as can be seen in our artist's rendering.
The inside of the bus was converted to RV a long time ago, and is no longer suitable for restoration to original configuration. In spite of this, the current internal conversion is in poor condition. So, for the inside, we plan on gutting everything out and starting over.
Note that we expect the entire rebuilding process to take around two years.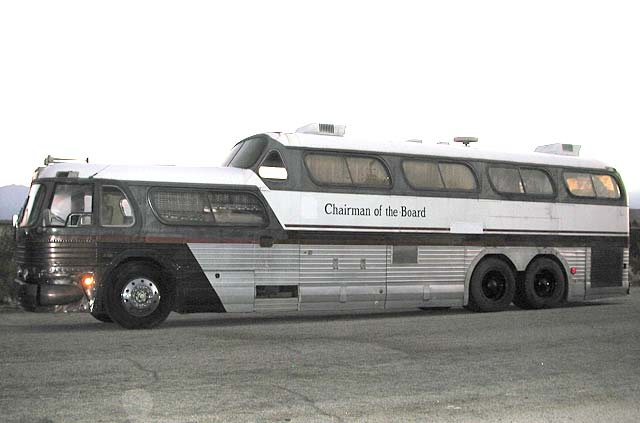 Artist's rendering of the future paint scheme: